by Stephanie Feldstein November 01, 2010 @ 07:35AM PT :35AM PT
Topics: Animal Abuse, Animals in Entertainment
Between the heat, the cement-floored cage, the noise, bright lights and diesel fumes, Tony the tiger's life at Tiger Truck Stop in Grosse Tete, Louisiana, is everything that's wrong with allowing people to keep exotic animals in captivity. Carole Baskin, from Big Cat Rescue in Florida, says they've received more complaints about the conditions where Tony is forced to live than any other abusive situation out there.

Morally speaking, he doesn't belong there … but technically, he shouldn't be there either. As Martin Matheny explained, a county ordinance banned private ownership of exotic animals in 1993. It was never enforced, and Michael Sandlin, Tiger Truck Stop's owner, played local politics to get an official exemption written into the ordinance last year. Sandlin then had to get a permit to keep Tony from the Louisiana Department of Wildlife and Fisheries.
Despite a statement from LDWF's Large Carnivore Manager, Maria Davidson, that tiger ownership "poses a significant hazard to pubic safety and is detrimental to the health of the animal," a permit was granted on December 14, 2009.
People across North America have been fighting for Tony, here on Change.org and across the web. Trucking advocate, Allen Smith of the TruthAboutTrucking.com, has spoken out about Tiger Truck Stop on his website. Leonardo Dicaprio, a vocal advocate for saving endangered wild tigers, tweeted last month about Tony's tragic story. Vancouver tiger activist, Anthony Marr, visited Tiger Truck Stop earlier this year to draw attention to Tony. He even offered to buy the tiger, but Sandlin says he's not selling.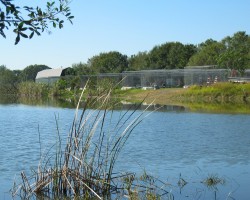 Photo credit: Big Cat Rescue — the enclosures at the sanctuary.
The Humane Society of Louisiana recently announced that they not only support the Free Tony the Tiger campaign, but they're forming a national committee to develop a plan to get Tony out of the truck stop and into a better home. And there's a better home waiting for him at Big Cat Rescue, complete with grass, trees, fresh air, a fresh flowing pool, a cave den and enrichment.
Sandlin has dug in his heels, and refuses to give up Tony. He blames activists for not helping him improve conditions for the tiger, though he claims Tony's life is just fine, and that keeping tigers in captivity is somehow beneficial for the species in light of their disappearing habitat. (It's not.) Sandlin and his father have decades of history of mistreating their "pet" tigers and violating the Animal Welfare Act.
Michael Sandlin's LDWF permit to keep Tony is up for renewal next month. If the agency doesn't grant the license, they can legally remove him from the truck stop and get him to an accredited sanctuary like Big Cat Rescue.
Urge the LDWF not to renew Tiger Truck Stop's permit. If you're a veterinarian or wildlife expert who can visit Tiger Truck Stop and submit a notarized affidavit about Tony's unhealthy living conditions, or if you have eyewitness reports, photos and video of Tony living in squalor at Tiger Truck Stop, get in touch with Big Cat Rescue, who is gathering evidence to present to the state and the USDA.

According to the exemption in the exotic pet ban, Tony will be the last tiger Sandlin can own. But as Tony is just turning 10 years old, he's been in Sandlin's paws a decade too long and, unless officials step in, he could have another decade of this depressing existence ahead of him. Take action, stay updated on the campaign, and keep the pressure on to free Tony.
http://animals.change.org/blog/view/a_chance_to_free_the_real_tony_the_tiger_from_his_box