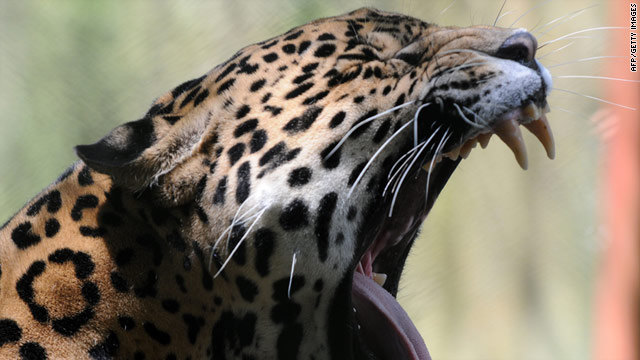 The U.S. Fish and Wildlife Service has put off for a year proposing a critical habitat area in the Southwest for endangered jaguars.
The proposal was supposed to be made this month, but the agency lacks sufficient data on the animal's habits and needs, it said Monday in a news release.
Designation of critical habitat merely identifies areas where endangered species can survive. It does not affect land ownership or establish a refuge or preserve.
Jaguars in Arizona and New Mexico, part of a population that is based in northern Mexico, rarely are found more than 40 miles north of the border, the wildlife service says. No females or breeding have been seen in the U.S. in more than 40 years, it says.
The greatest threat to jaguars in the United States is killing of individual animals, not habitat loss, the wildlife service said in January 2010.
According to the conservation group Defenders of Wildlife, jaguars stand about 2.5 feet tall, are 5.5 to 8 feet long from nose to tip of the tail, and weigh 100 to 250 pounds. The number surviving in the wild is unknown.
bigcatrescue.org