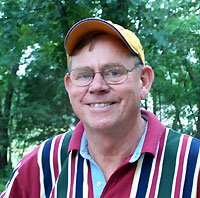 Luke Clayton
There is no official 'predator hunting season' in Texas but if there were, opening day would be today. After the close of deer season, many hunters depart their hunting leases with sagging spirits, relegating the next few months to watching hunting shows on TV and setting by the fireside. BIG MISTAKE! Predators such as coyotes, fox and bobcat numbers are at an all-time high these days, largely because of low fur prices. I've yet to meet a farmer or rancher that didn't appreciate hunters removing coyotes from his land.
While hunting rights for deer, turkey, quail and hogs often comes at a premium price, it's not uncommon for a landowner to grant permission for free to predator hunters, providing the hunter can convince him he will be safe and responsible while on the property.
Hunting predators is not rocket science, but it can be challenging. Coyotes have an extremely keen nose and choosing a good place from which to call is a must. I like to set up on the downwind side of clearing or field edge in an attempt to pull coyotes from the heavy cover. Funnel areas connecting two sections of heavy cover can be extremely effective. Sounds such as injured rabbits, canine pups in distress or even house cats in distress will entice coyotes out of the brush and within shooting range.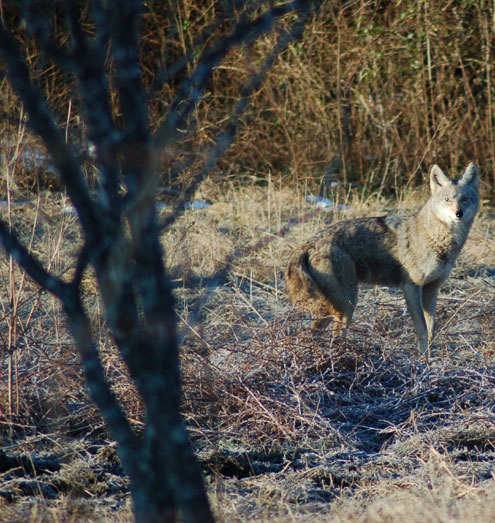 Hunting is not over just because deer season closed. There are plenty of predators such as this coyote out there to hunt the next few months. photo by Luke Clayton
Cass Creek (www.casscreek.com) offers an outstanding line of lightweight, high quality predator callers. The new Mega Amp coyote caller is effective for both long range and close in calling. I've mounted the companies remote control calls on trees, fences, etc. upwind of where I expect the songdogs to appear and with a small but powerful remote control, activated the calls individually, often setting two or three callers in front of my shooting position. When the approaching coyote gets close to the most distant call, I begin calling softer with the closer call. This is a deadly method of calling wary coyotes. The sounds emitting from different positions gives the predator the illusion that the injured rabbit or bird is on the move and getting away. The coyote often comes in on a dead run.
Bobcats numbers are also high across much of the state. Cats usually approach a call much more slowly than do coyotes. I usually begin with a series of very soft calls, a yellowhammer woodpecker call is good but so is an injured mouse or cat in distress. If, after twenty minutes, a cat doesn't show, I increase the volume. When calling cats, I keep the caller running continuously.
Both cats and coyotes are very visual animals. The fluttering of a squirrel tail tied to a limb gives an approaching cat or coyote confidence. If there's no wind, tie a piece of mono fishing line to the tail 50 yards in front of your calling position and occasionally give it a twitch.
Hunting at night is another very effective and exciting method of getting predators in really close. A good spotlight with a red lens is a must when night hunting. The light's beam should be held just above the approaching animal's eyes. It's common to have fox, especially gray fox, approach within a few yards of a caller at night using a red light.
So, if you're suffering a case of post deer season blues, consider getting a good caller and make plans for a return trip to the lease soon.
There's plenty of exciting hunting this winter and it's a long time till the opener of spring turkey season. Don't forget those feral hogs and all the potential excellent eating pork out there! But, we'd best leave that subject for next week!

bigcatrescue.org