DEP Removes 24 Tigers Illegally Kept as Pets
Tigers will be driven nonstop to the Wild Animal Orphanage in Texas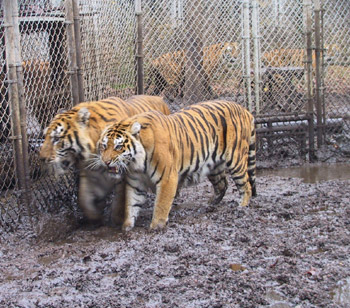 Photo caption: DEP photo of tiger enclosures filled with feces, urine, and mud taken at Joan Byron-Marasek's property in Jackson Township. The tigers were moved to the Wild Animal Orphanage's new, 102-acre facility located outside San Antonio, Texas.
(03/163) TRENTON, NJ – The Department of Environmental Protection (DEP) with assistance from the Wild Animal Orphanage (WAO) and the International Fund for Animal Welfare (IFAW) today began moving 24 neglected and unpermitted tigers from a private facility in Jackson Township to a non-profit animal sanctuary in Texas.
"We are moving these tigers today to end a saga of lawbreaking cruelty to these animals," DEP Commissioner Bradley M. Campbell said. "Joan Byron-Marasek and her husband, Jan Marasek, not only kept these 24 tigers as pets, but they kept them in squalor."
During an inspection just last week, the DEP's Division of Fish and Wildlife found the cats forced to choose between pacing knee-deep through a mixture of mud and feces, or taking shelter in their filthy trailers.
Some tigers lived in such cramped spaces, they barely had enough room to turn around or stand. The ground on which these majestic creatures were forced to recline was perpetually wet during the winter months. The Maraseks continually failed to refrigerate the tigers' food, and routinely fed them rotting deer carcasses, black with flies, and other spoiled meat.
The Maraseks ignored the pleas of animal-welfare groups and a state Superior Court order to keep the tigers segregated by gender so they wouldn't breed and bring even more tigers into these abysmal conditions. In March 2001, the DEP documented a male and female tiger purposely caged together and mating.
The deplorable, cramped conditions here resulted in multiple court rulings that culminate today with the tigers' removal to the WAO. The tigers will live at the group's new facility located on a 102-acre tract outside San Antonio, Texas. The WAO is a 20-year-old non-profit institution that is licensed by the USDA and regularly inspected.
The DEP Division of Fish and Wildlife, in cooperation with the WAO, the Jackson Township Police Department and the International Fund for Animal Welfare, are taking every precaution to ensure this move goes smoothly and safely for the tigers and the public. Each tiger is being loaded into an individual traveling cage that will be rolled into a large truck container and carried by one of four tractor-trailers to San Antonio. A rotating team of drivers accompanied by two veterinarians will drive the tigers nonstop through the night. The trip to San Antonio will take fewer than 30 hours.
"Today, as when the prior administration first began this investigation nearly five years ago, our goal remains the same: to provide for the safety of the Jackson community and to provide the tigers with clean, humane living conditions befitting these majestic animals," Campbell said.
The DEP began investigating the Maraseks' Tigers Only Preservation Society on Monmouth Road in January 1999, after law enforcement officials shot and killed a 431-pound Bengal tiger found loose and roaming about Freehold Township. A DNA analysis of a tiger hair found on a briar inside the Maraseks' perimeter fence but outside the tiger compound matched the DNA of the roaming tiger.
Superior Court Judge Eugene D. Serpentelli established on May 7, 2003, that the DEP and the WAO can take ownership of the tigers and move them Texas. The Maraseks forfeited their ownership by failing to either obtain the proper exotic animal permits or to voluntarily move the tigers out of New Jersey.
The DEP thanks the WAO and the IFAW for their substantial time and financial support with today's move. The DEP also thanks the Humane Society of the United States and Princeton University, home of the Princeton Tigers, for their generous support.
DEP Removes 24 Tigers Illegally Kept as Pets
Tigers will be driven nonstop to the Wild Animal Orphanage in Texas
Photo captions: DEP photos of tiger enclosures filled with feces, urine, and mud taken at Joan Byron-Marasek's property in Jackson Township. The tigers were moved to the Wild Animal Orphanage's new, 102-acre facility located outside San Antonio, Texas.
Carole's note:  Here is Joan Byron-Marasek bottle feeding Jaipur the tiger at 932 pounds who eventually was reported to weigh 1,025 lbs.  Handlers try to keep big cats nursing on a bottle for as long as they can to be able to keep the cats mentally dependent on them.  Cubs can grow to full size in the first couple of years, but do not emotionally become adults until they are five years old.  This is why so many of the maulings and killings by big cats are done by those that are just over 5 years of age.  Their handlers use them to make money or seek attention for as long as they can get away with it and often that ends badly for both.
Moving Day For Tiger Lady's Cats
Nov 11, 2003 12:46 pm US /Pacific
TRENTON (AP) Nearly five years after a loose tiger wandering this Ocean County community triggered a crackdown on a privately run sanctuary for big cats, animal welfare workers began removing the 24 Bengal tigers Tuesday, preparing them for shipment to a Texas animal sanctuary.
By 3 p.m. , 18 tigers had been loaded onto trucks, including some that had to be sedated with tranquilizer darts. A convoy of four trucks was expected to leave the Tigers Only Preservation Society on Tuesday night, bound for the Wild Animal Orphanage in San Antonio , which authorities said is better equipped to care for them.
The move ends a protracted struggle between the cats' owner, Joan Byron-Marasek, who has become known as the "Tiger Lady," and state wildlife officials, who say the animals were being kept in deplorable conditions and needed to be taken away.
"I'm so glad to see this is finally coming to a resolution," said Marty McHugh, director of the state Department of Environmental Protection's Division of Fish, Game and Wildlife. "These animals have been living in such terrible conditions. This is the right thing to do. Getting them out to Texas is the best thing that could happen to them, and to this community."
The strange saga began in January 1999, when a loose tiger wandering near Byron-Marasek's property was shot and killed by authorities. State officials never proved the tiger belonged to Byron-Marasek, but criticized conditions at her facility and denied the renewal of her permit to keep the tigers.
Her appeals to overturn that decision were exhausted in November 2001, and a state Superior Court judge authorized a plan to move the animals.
Byron-Marasek was at the compound when the workers arrived, but she left in a taxi around 7 a.m. , crouching down so photographers could not taker her picture. She was not immediately available for comment.
McHugh said Byron-Marasek had obtained a hearing in U.S. District Court in Camden that was scheduled for Wednesday afternoon to try to seek some sort of post-event relief. Her most recent attorney, Darren Gelber, did not return a phone call seeking comment Tuesday.
The tiger compound divided neighbors in this rapidly growing community of single-home subdivisions nestled among the scrub pines about halfway between New York and Philadelphia . Supporters said Byron-Marasek was being targeted by overzealous bureaucrats, while opponents dreamed of the day when there were no longer any tigers in the area.
"I just don't feel they should be penned up. That's what Great Adventure is for," said neighbor Marge Richmond, referring to the nearby theme park that includes a drive-through safari with wild animals. "You want a pet? Get a dog."
John Poulos carried a hand-made sign outside the compound that read "Let The Tigers Stay." He blamed recent arrivals for Byron-Marasek's troubles.
"She's been here for 20 years," Poulos said. "These people move from New York and North Jersey and never checked where it was they were moving to."
Getting the big cats out of their cages proved tricky. In some instances, workers lured them into rolling portable cages with meat. Others had to be gently prodded. Still others refused to go, roaring and lashing out at workers.
"They're being extremely aggressive," said Carol Asvestas, director of the Wild Animal Orphanage. "They're just not very happy right now."
Five tigers had to be sedated with darts containing a mixture of Valium and ketamine, an animal tranquilizer.
Asvestas said she was appalled at the physical condition of the tigers, who she said were soaked in urine and caked with mud and feces. One tiger had neurological problems that would not allow it to hold its head straight.
Another was severely dehydrated and has sores on its feet.
"I think it's criminal for the government to give permits to facilities like these," she said.
Asvestas said her 102-acre facility is already home to 600 wild animals, including 42 other tigers, as well as monkeys, bears and other animals rescued from private ownership. It is registered with and routinely inspected by the United States Department of Agriculture.
The convoy heading to San Antonio will be staffed by several relief drivers, two veterinarians and 10 animal caretakers. If all goes well, the tigers should be at their new home by Wednesday night, officials said.
The move will cost nearly $300,000. New Jersey will provide $120,000, and the International Animal Welfare Fund, a group lobbying for an end to private ownership of big cats, is contributing another $120,000. It was not immediately clear who would pay the remaining $60,000. McHugh said the state plans to move in court to recoup its costs from the case from Byron-Marasek.
http://cbs2.com/siteSearch/ watercooler_story_314151200.html
Tiger lady ordered to repay state for expenses for moving cats
News in brief from around New Jersey
March 20, 2004 , 2:42 PM EST
TOMS RIVER , N.J. — The Ocean County woman whose private tiger compound was shut down by the state last fall has been ordered to repay New Jersey the cost of relocating her 24 big cats to a Texas refuge.
In November, the Department of Environmental Protection seized the Bengal tigers from the Tigers Only Preservation Society in Jackson and trucked them to San Antonio , ending a court battle over the cats that began in 1999.
On Friday, Superior Court Judge Eugene D. Serpentelli ordered Joan Byron-Marasek and her husband to reimburse the state $144,555 in costs associated with moving the cats to the Wild Animal Orphanage in San Antonio .
On behalf of the DEP's Division of Fish and Wildlife, the state attorney general's office argued the relocation broke the budget of the Non-game and Exotic Species Program, which handles inspections of zoos and similar facilities.
State officials said the tiger transfer cost a total of $290,000, which included the expense of building a facility at the San Antonio refuge to house the New Jersey tigers.
The International Fund for Animal Welfare picked up part of the tab.
State officials say they are prepared to place a lien on Byron-Marasek's property if she does not reimburse the state for the expenses.
Byron-Marasek lost her permits for the cats after a 430-pound Bengal tiger was shot and killed when it was found roaming in Jackson in January 1999. She denied the tiger came from her 15-acre compound.
State officials subsequently inspected her compound and ruled it substandard, triggering four years of court wrangling.
Byron-Marasek did not attend Friday's hearing.
However, she did submit legal briefs in which she argued the state wrongfully shut down her preserve. She disputed assertions the facility was substandard and alleged the state's actions resulted from efforts to force her to sell her property, which lies within a commercially growing area just north of Interstate 195.
http://www.newsday.com/news/local/wir e/ny-bc-nj-tigerlady0320mar20,0,3312667. story?coll=ny-ap-regional-wire