Lion at MSU College of Vet Medicine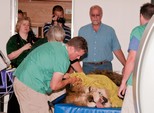 Specialists with the MSU College of Veterinary Medicine, Potter Park Zoo and John Ball Zoo partner to provide medical care for a male African lion from John Ball Zoo in Grand Rapids. Photo by Derrick Turner.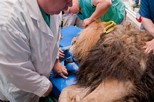 Docha, a male African lion from John Ball Zoo in Grand Rapids, undergoes an MRI at MSU's College of Veterinary Medicine. Photo by Derrick Turner.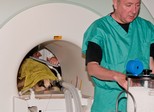 An MRI is performed on Docha, a male lion from John Ball Zoo in Grand Rapids. Photo by Derrick Turner.
Click on an image to view a larger or high-resolution version.
EAST LANSING, Mich. — Under security escort, a 6-year-old, 490-pound African male lion was taken today from Grand Rapids' John Ball Zoo to Michigan State University's Veterinary Teaching Hospital – with a pit stop at Potter Park Zoo in Lansing – for an MRI and ultrasound.
Docha, who has been at the John Ball Zoo since he was 2 years old, has had several seizure-like episodes during the past year, and zoo veterinary staff could not pinpoint a cause. After consulting with animal care experts, the staff decided to utilize MSU's large-animal, open-bore MRI, the first ever at an academic institution.
The magnetic resonance imaging machine has a 70-centimeter opening that is nearly 50 percent larger than the standard MRI and allows doctors and researchers at the College of Veterinary Medicine to analyze larger animals, typically horses and cows. But today the patient was Docha, who typically shares his exhibit, Lions of Lake Manyara, with two female sister lions.
The lion's journey began this morning in Grand Rapids, where John Ball Zoo Curator Barb Snyder and staff transported the animal to Lansing's Potter Park Zoo. Once there, zoo veterinarian and Curator Tara Harrison – a graduate of MSU's College of Veterinary Medicine and an adjunct professor – worked with Snyder to anesthetize the animal, and afterward it was taken to MSU for the procedure.
Anthony Pease, head of radiology at the College of Veterinary Medicine, led the team that performed the MRI, which found nothing alarming with Docha.
"Having technology such as this helps us greatly in determining the best course of treatment for larger animals," he said. "For Docha, it appears his seizures will be able to be controlled medically without any surgery."
Although the veterinarians at the college are used to treating large animals, this is the first lion ever to be examined via MRI at the school. Not only was the procedure used to help John Ball Zoo officials determine the next course of action in Docha's health, but it also helped train future veterinarians, Pease added.
"Performing an MRI on a lion doesn't happen every day," he said. "These are the types of things that students read about, but to be able to see it is amazing."
John Ball Zoo officials always take extraordinary measures to improve the lives of their valuable animal ambassadors, Snyder said. The zoo's animal health program includes veterinarians and an on-site hospital, and zoo officials often consult with dentists, oncologists, anesthesiologists and other human medicine specialists.
"Zoos and animal facilities in West Michigan are fortunate to have a world-class animal health care facility such as the MSU College of Veterinary Medicine as a close partner in the critical care of animals," Snyder said.
###
Michigan State University has been working to advance the common good in uncommon ways for more than 150 years. One of the top research universities in the world, MSU focuses its vast resources on creating solutions to some of the world's most pressing challenges, while providing life-changing opportunities to a diverse and inclusive academic community through more than 200 programs of study in 17 degree-granting colleges.
Contact: Jason Cody, University Relations, Office: (517) 432-0924, Cell: (734) 755-0210, Jason.Cody@ur.msu.edu; Krys Bylund, John Ball Zoo, Office: (616) 336-4374, Cell: (616)340-0025, kbylund@johnballzoosociety.org
Published: June 17, 2011 E-mail Editor ShareThis