A new ad campaign is underway in South Africa to stop the country's lion bone trade. Lions are killed so their bones can be used to make fake aphrodisiacs and traditional medicines. The demand for the bones is growing in Asia as tigers become scarce.
Listen to De Capua report on lion bone trade
The campaign's been launched by Avaaz – a group describing itself as a global web movement, whose name means "voice" in several languages.
The adscan be found in Johannesburg Airport's International Arrival Hall, the inflight magazine aboard South African Airways and on Google. They're aimed at stopping what's known as canned hunting. Lions are born and raised on game farms for the sole purpose of being hunted. Some reports say hunters pay as much as $20,000 to do so.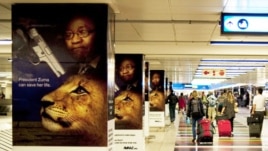 Ads opposing the lion bone trade posted at Johannesburg airport. (Avaaz)
"South Africa's lions are being decimated. Trade is exploding right now and exper