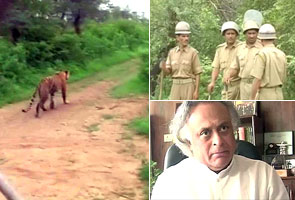 NDTV Correspondent, Updated: November 17, 2010 09:07 IST
New Delhi:
Environment minister Jairam Ramesh will visit Sariska reserve on Wednesday morning as authorities there have concluded that the tiger that was found dead was probably poisoned by villagers.
(Read: Setback in Sariska as translocated tiger found dead)
Earlier, forest officials had claimed the tiger had died in a territorial fight but that has now been ruled out as there were no injury marks.
Two senior forest officials were suspended on Tuesday on the charge of dereliction of duty. (Read: Sariska tiger death: Two forest officials suspended)
In 2004, Sariska reserve in Rajasthan lost all its tigers to poaching. That had prompted the Prime Minster to call a meeting of the National Board on Wildlife and since 2008 five tigers have been relocated to Sariska from Ranthambore
However, with the death of the tiger, which was the first big cat to be moved to Sariska two years ago as a part of the trans-location process of the government, there has been a major setback for the species revival plan.
http://www.ndtv.com/article/india/tiger-poisoned-jairam-ramesh-rushes-to-sariska-66801